Forgotten Palestinians: Strangers in Their Homeland, January 22, 2021
Image

Key Topics
7th Education Webinar | Forgotten Palestinians: Strangers in Their Homeland

?? For more than 70 years since the beginning of the Nakba, the Palestinians who remained in Israel have been stripped of their national identity (i.e. Palestinian), and instead referred to in Zionist discourse as "Israeli Arabs." ? On Friday, January 22nd, join us at 6:00 PM Eastern for a special webinar where we will be hosting a live discussion here on Facebook and YouTube with the following featured speakers on the significance of the Palestinian citizens of Israel to the broader Palestinian national project: ?️ - Dr. Maha Nassar: Award-winning associate professor in the School of Middle Eastern and North African Studies at the University of Arizona and author of "Brothers Apart: Palestinian Citizens of Israel and the Arab World". ?️ - Jamil Dakwar: Human rights lawyer and chair of Adalah Justice Project's advisory board. #PalestineConnectsUs

Posted by American Muslims for Palestine on Friday, January 22, 2021
?? For more than 70 years since the beginning of the Nakba, the Palestinians who remained in Israel have been stripped of their national identity (i.e. Palestinian), and instead referred to in Zionist discourse as "Israeli Arabs."
? On Friday, January 22nd, join us at 6:00 PM Eastern for a special webinar where we will be hosting a live discussion here on Facebook and YouTube with the following featured speakers on the significance of the Palestinian citizens of Israel to the broader Palestinian national project:
?️ - Dr. Maha Nassar: Award-winning associate professor in the School of Middle Eastern and North African Studies at the University of Arizona and author of "Brothers Apart: Palestinian Citizens of Israel and the Arab World".
?️ - Jamil Dakwar: Human rights lawyer and chair of Adalah Justice Project's advisory board.
Webinar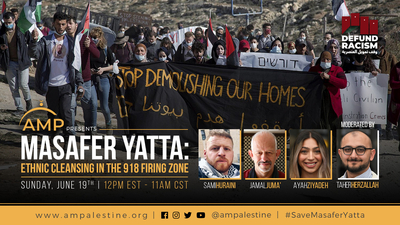 On May 4th, the Israeli Supreme Court ruled that the Israeli military had the right ...
Jerusalem was a place of harmony and peace before the advent of Zionism. After decades ...
AMP Chairman Dr. Hatem Bazian published an article emphasizing 10 lessons learned from the recent ...