19th Education Webinar | Israel's Assault on Palestinian Human Rights
Image

Key Topics
On the morning of August 18, 2022, the Israeli military raided the offices of 7 leading Palestinian Human Rights organizations and sealed their doorways. While such actions shock the conscience, they're unfortunately unsurprising given Israel's reputation of repressing freedom of expression and undermining the spirit of accountability and transparency these organizations represent.
On Wednesday, September 7th, AMP hosted a live discussion on with an amazing lineup of experts:
- Diana Buttu: Former legal advisor to the Palestine Liberation Organization, and Policy Advisor to Al-Shabaka
- Miranda Cleland: Advocacy and communications officer at Defense for Children International-Palestine (DCI-P)
- Marjorie Cohn: Professor emerita at Thomas Jefferson School of Law & member of Jewish Voice for Peace
- Milena Ansari: International Advocacy Officer at Addameer Prisoner Support and Human Rights Association
Webinar
During Americans for Justice in Palestine (AJP Action) Advocacy Days, Congresswoman Rashida Tlaib remarked, "you ...
Now that President Joe Biden's Middle East visit has concluded, we can better assess its ...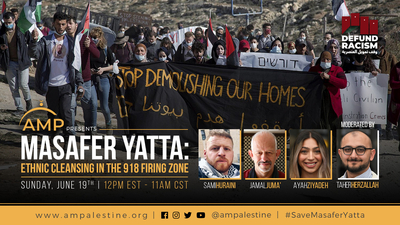 On May 4th, the Israeli Supreme Court ruled that the Israeli military had the right ...