20th Education Webinar | From Grassroots to Congress: Progressives Exposing Israeli Apartheid
Image

Key Topics
During Americans for Justice in Palestine (AJP Action) Advocacy Days, Congresswoman Rashida Tlaib remarked, "you cannot claim to hold progressive values yet back Israel's apartheid government." She was absolutely right, and recent polls have proven this fact, as net sympathy for Israel has waned in the last few years, especially among progressives, and young people.
It's not surprising therefore that Israeli apologists in the media, and in congress, resort to smear campaigns and unwarranted attacks against progressives who defend Palestinian rights and condemn Israeli apartheid. However, it's clear that Israel is losing the battle in the court of public opinion, and it's our job on the ground to push our elected officials to do what's right and stand for justice and democratic values.
On Thursday, October 13th, 2022, AMP hosted a fantastic lineup of guests to discuss this important topic, featuring:
- Josh Ruebner: Author of "Israel: Democracy or Apartheid State?"
- Beth Miller: Senior Government Affairs Manager, Jewish Voice for Peace Action
- Katie Halper: Jewish-American journalist & Political Commentator
- Eva Borgwardt: Political Director, IfNotNow
Webinar
On the morning of August 18, 2022, the Israeli military raided the offices of 7 ...
Now that President Joe Biden's Middle East visit has concluded, we can better assess its ...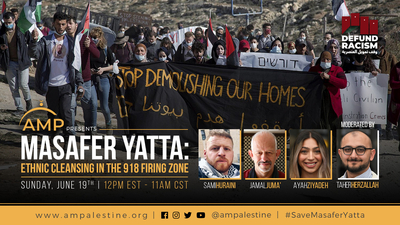 On May 4th, the Israeli Supreme Court ruled that the Israeli military had the right ...