15th Education Webinar | Israel's Crime Against Humanity: Apartheid in Palestine
Image

Key Topics
It is no longer anathema to refer to Israel's structure and policies as apartheid in nature. Our job is to push the envelope and expose Israel's crime against humanity of apartheid and change the legislative and executive agenda toward holding Israel accountable for its crimes against the Palestinian people.
Watch this webinar held on Saturday, February 26, 2022, titled "Israel's Crime Against Humanity: Apartheid in Palestine," where we hosted a live discussion with our wonderful guests:
Maen Hammad | Amnesty International
Katherine Gallagher | Center for Constitutional Rights
Dr. Virginia Tilley | Writer/Professor of Political Science
Wesam Ahmed | Al-Haq
Webinar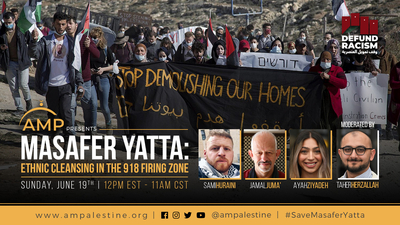 On May 4th, the Israeli Supreme Court ruled that the Israeli military had the right ...
Jerusalem was a place of harmony and peace before the advent of Zionism. After decades ...
AMP Chairman Dr. Hatem Bazian published an article emphasizing 10 lessons learned from the recent ...