Blog
August 21, 2020
Not 1, Not 2, Not 3 but FOUR Members of Congress
Newsletter Volume 2, Number 4
Advocate for Palestinian rights from the comforts of your home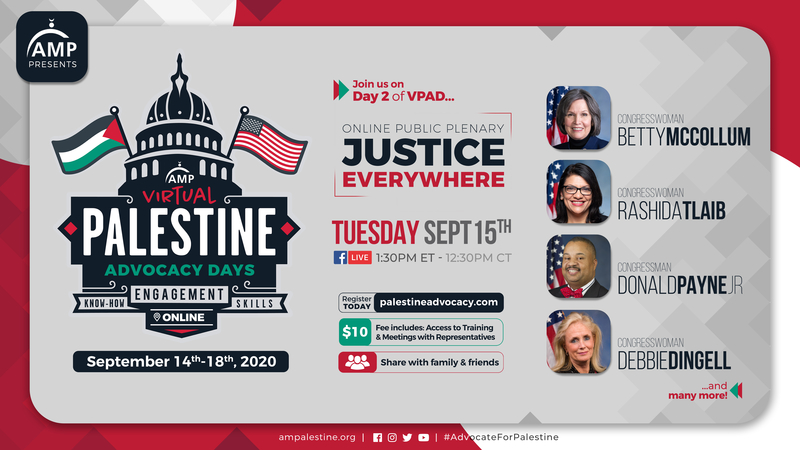 In less than a month, AMP will host its first-ever virtual Palestine Advocacy Days with Members of Congress, and we want you to join us . From September 14-18, we are organizing intensive training sessions led by experts in political advocacy and former Capitol Hill staffers to empower you to be a dynamic citizen lobbyist for Palestinian rights.
We are hosting a public plenary session with Members of Congress, including Reps. Betty McCollum (D-MN), Rashida Tlaib (D-MI), Donald Payne Jr. (D-NJ), and Debbie Dingell (D-MI) to learn how we can advocate for justice both here in the US and in Palestine.  
And we'll set up meetings for you and other constituents with your elected officials so that you can educate them about the need to support brand-new legislation to advance Palestinian rights.
All of this for just $10! Register today to claim your virtual seat at Palestine Advocacy Days next month.
Register today and have your friends and  family join you in advocating for Palestinian rights from the comforts of your home.
---
 Israeli Annexation Non-Recognition Act
We thank Congresswoman Betty McCollum (MN-04) for her historic bill that would penalize Israel  for annexation and apartheid. AMP was proud to be one of the 30 organizations in support of her bill. We also thank the co-sponsors: Rep. Rashida Tlaib (MI-13), Rep. Alexandria Ocasio-Cortez (NY-14), Rep. Ayanna Pressley (MA-07), Rep. Mark Pocan (WI-02), Rep. Ilhan Omar (MN-05), and Rep. André Carson (IN-07).
The text of the Israeli Annexation Non-Recognition Act can be found here  and  background information on the bill is available here . "This bill is significant because it employs the language of human rights and equality in expressing opposition to Israeli annexation and proposes concrete means of holding Israel accountable should it move forward with annexation," writes AMP Managing Director Josh Ruebner. Click here for a detailed analysis.  
We ask you to take a minute to send a letter to your Representative  here and ask them to support the Israeli Annexation Non-Recognition Act.
---
Happenings at AMP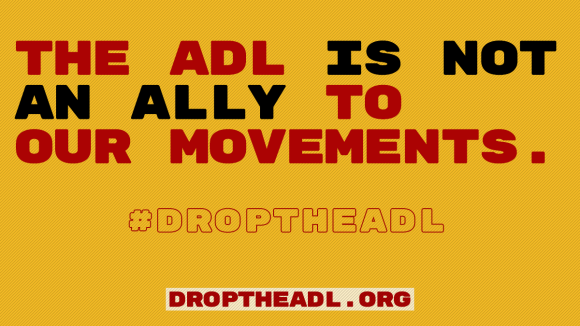 AMP is proud to be a key coalition partner in the #DroptheADL campaign  to end our communities' and  other progressive movements' involvement with the ADL, an organization which poses as a civil rights organization but in actuality tries to repress social justice movements, including the movement for Palestinian rights. and if you find an organization in your area that is  partnering with ADL, ask them to sign on to terminate their relationship with ADL.
---
 Click here to watch our educational webinar featuring Diana Buttu & Professor Osamah Khalil who participated in a fascinating discussion about reorienting the discourse to one based on rights rather than statehood with AMP's Education Coordinator Tarek Khalil. And click here to watch earlier educational webinars.
---
 Our monthly #LetsTalkBLM anti-racist conversation continues. This month we discussed Racist Systems and Structures with Ahmed Edward Mitchell (CAIR) and Ismahan Abdullahi (MAS). Click here to watch the latest episode  or the earlier episodes here.
---
 This month, AMP is proud to recognize our Chicago Chapter , affectionately called the 'mother chapter', for their foundational role in establishing AMP, and myriad programs and activities. These include educational webinars  with leading experts,  the Yalla Shabab program for young Chicagoans, and educating, organizing and mobilizing the greater Chicago community for Palestine.
---